Details

Published on Tuesday, 24 September 2013 07:06
Written by Jess Hartley
LA By Night was amazing. 5 days spent aboard a cruise-ship-turned-hotel, playing games and hanging out with World of Darkness fans from several clubs (and some lone horsemen!) I don't even know where to start about highlighting the awesome... But I guess you have to start somewhere!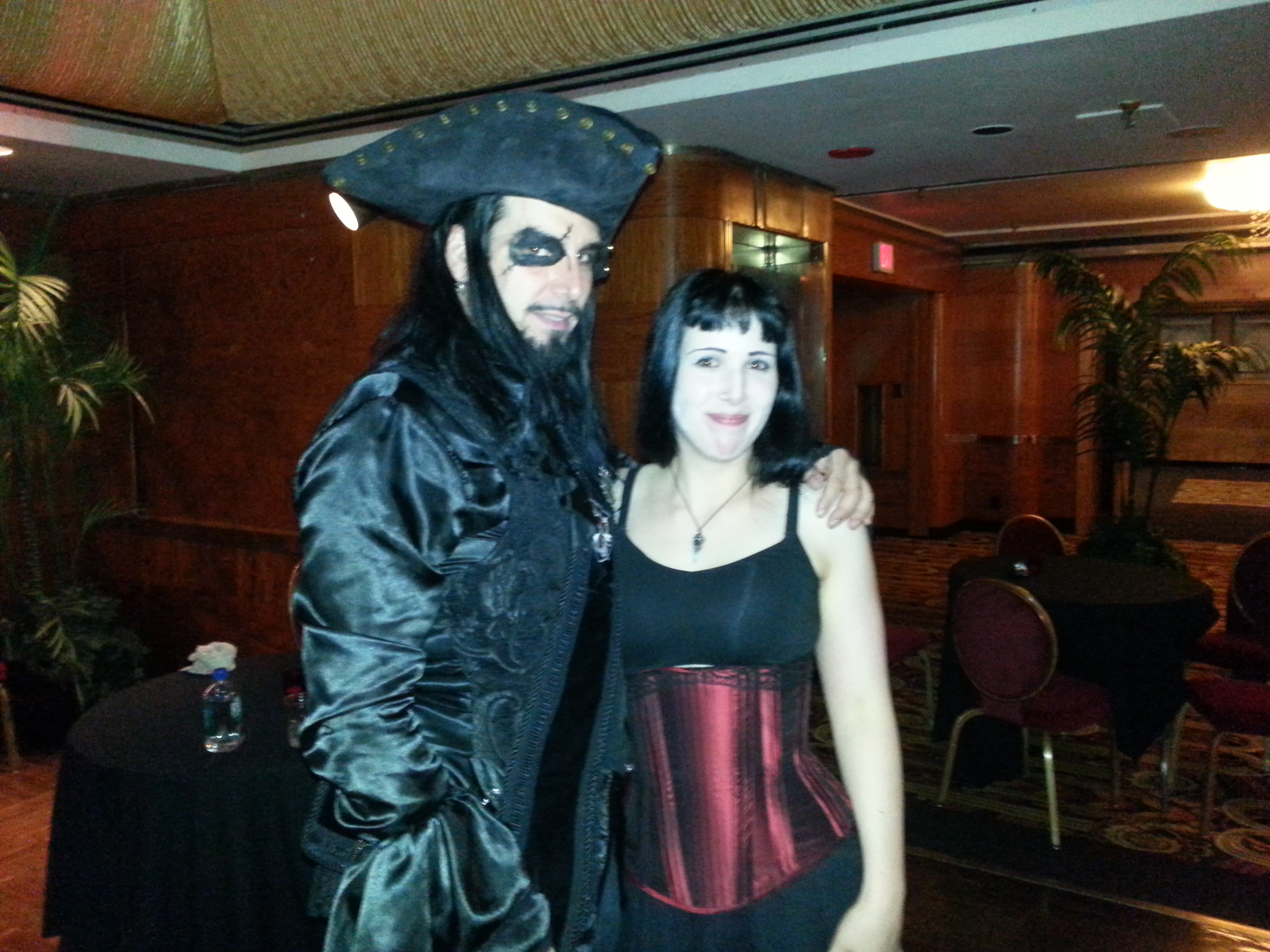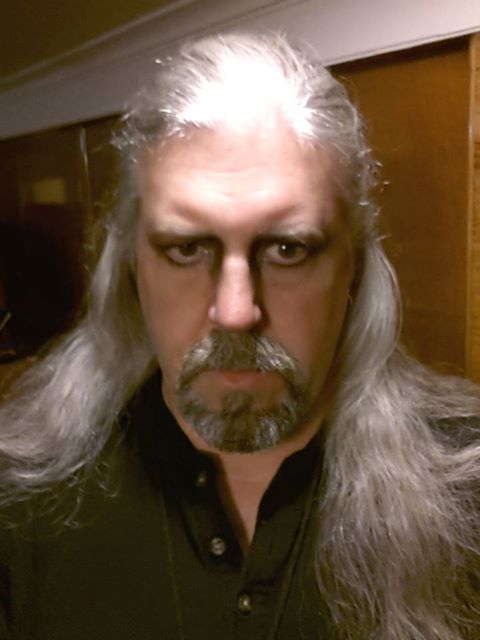 First and foremost, it is always wonderful to game with people who love gaming. I got a chance to play in a Sabbat LARP ran by my very talented friend, Sara Morris (shown here hugging the also very talented Voltaire, who performed a concert at the Succubus Club on Saturday night), and to play an NPC in a Werewolf: the Apocalypse LARP.
The gaming highlight of my weekend, however, was to help introduce my wonderful husband, The Viking, to LARP through Blood and Betrayal, the premiere debut of By Night Studio's new Mind's Eye Theater version of Vampire: The Masquerade. He played their version of a City Gangrel (A Gangrel Bloodline called Coyotes). He named his character William Edward, and went by "Bill" - both as an homage to the True Blood character ("You're a vampire named... Bill?") and because that way he could be Will E. Coyote... (Supra Genius). I love that man's sense of humor!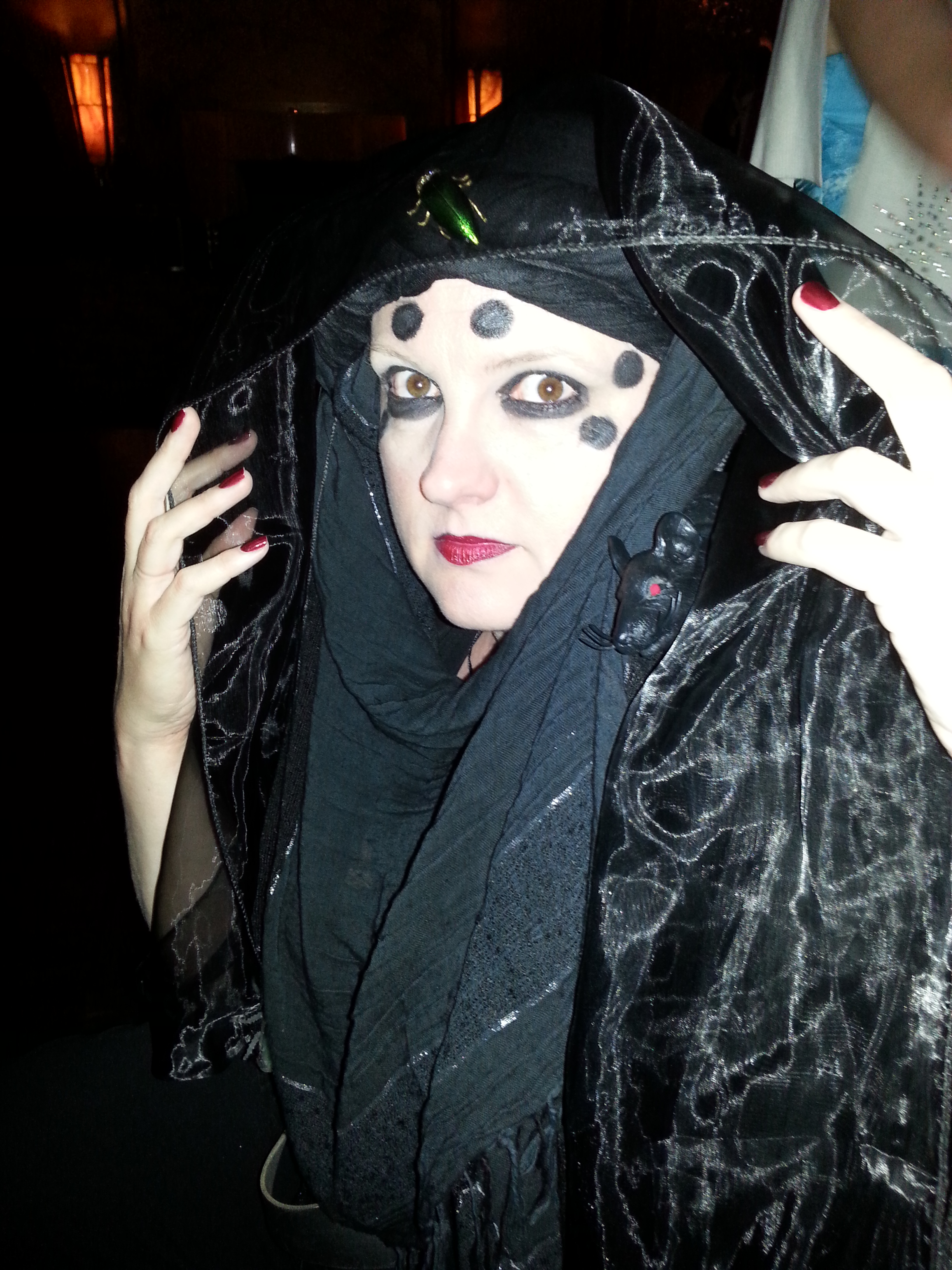 (We played several hands of Pirate Fluxx very late night on Sunday, which was also a blast). While my gaming experience was fun, even more fantastic was watching everyone else have fun. The costuming, the character development, the enthusiasm! It was just amazing to see!
We did some touristy stuff in Long Beach while we were down there. We did the Harbor Tour, Aquarium, Pirate Adventure Dinner, and the like. Ate some good food (Omelette Inn for breakfast on Monday morning was flippin' amazing! I wish we'd discovered it early on. Half the price of the breakfast buffet on board and the food was amazing.) Explored the Queen Mary, inside and out, which was fun, even though it's not an era I'm overly interested in.
The highlight of the weekend, though, was definitely the people. I got a chance to meet a lot of folks I only knew through the internet: Brian Campbell (who I've had the honor of working with on Onyx Path projects in the past, and look forward to working with more in the future); Amanda Johnson, a very enthusiastic supporter of the Changing Breeds 20th Anniversary edition Kickstarter; Jen Eiland (who made me blush by refering to me as "The" Jess...), Laura Duvall (who is a Pirate Fluxx shark!) and others who I'm sure I'm forgetting in my exhausted state. Electronic friendships are awesome, but meeting folks in real life? That's what it's all about!
It was also great to to catch up with folks from around the world. I haven't been traveling as much since we've moved back to Oregon, and I saw a lot of wonderful folks - many whom I haven't seen since we moved back to the NW. Spider, Anthony, Rachel, Gillian, Josh, Trish - and so many more! (And, of course, a jaw-dropping appearance by David Kizzia and his lovely wife, Jadine, who surprised the heck out of me!)
One of the nicest things about cons for me is blending work and recreation. I don't get to see my "big boss", Rich Thomas, in person more than maybe once a year, and even if the Succubus Club isn't what most folks would consider "the office", it was great to catch up. Seeing Matt McElroy, Eddy Webb and Justin Achilli and other Onyx Path folks was great, as was visiting with (as Rich put it) our "blood cousins" over at By Night Studios: Jasons the Elder and Younger, Ree and Kevin, the indominable Elissa... I love getting a chance to visit with other folks who are as enthusiastic about making games as I am!
And, of course, the trip would not have been the same without my bestest friend, Tactical Support Viking, and the love of my life. I often (mis)quote a silly little movie (Kangaroo Jack), when I say... "All of my best adventures start with "Pat and I"... But it's the truth. He's my favorite travellling companion, and I love exploring the world with him at my side! He doesn't get a chance to go to a lot of conventions, although he loves them. So, if you didn't get a chance to meet him this weekend, you missed out!