Details

Published on Thursday, 29 September 2011 07:34
Written by Jess Hartley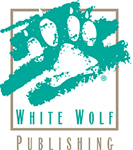 In November of 2011, White Wolf will be publishing a new supplement for Vampire: The Requiem. Inspired by the epic emotions and heart-pounding tension of the paranormal romance genre, Strange, Dead Love is a resource for Storytellers and players who would like put a little passion into their gothic horror.
Developers, Russell Bailey and Eddy Webb, rallied myself, Monica Valentinelli and Filamena Hill to tackle the topic of how to integrate the themes and tropes of a genre that includes works from a diverse range of authors, such as Charlaine Harris, Kim Harrison, Laurel K. Hamilton and Stephanie Meyers. The result will provide a toolset and exploration for opening Vampire: The Requiem into a whole new world of storylines and sub-plots.
This is definitely a book for people who like vampire romance. We're talking more epic emotions and dark action than the usual Requiem blood and asphalt. We're focusing on being true to genre, much as we did with the two Mirrors sci-fi books. — Russ Bailey on Google+
Several media sites have already begun grilling the creators about this project. Filamena Hill was interviewed on the Jennisodes podcast. I talked to Christian from The Dead Gamer's Society as well as a live radio event with Geekerati Radio on the topic. Rich Thomas and Eddy Webb also mentioned the book briefly in an interview with the French RPG magazine, Jeu de Rolle.

This was an amazing project to be a part of. I really enjoyed tackling the challenge of storytelling for this change-in-genre, as well as getting the chance to design some new mechanics specifically for the switch.

Got more questions? You're in luck. Between now and October 3rd, 2011, Flames Rising is taking questions to pose to the creators of Strange, Dead Love in an upcoming interview. It's a great way to find out exactly what you want to know, straight from the proverbial horses' mouths!  So drop by and leave some interview ideas for the great folks at Flames Rising!